HOME >> EVENTS >> BAY AREA OPEN 2015
Bay Area Open 2015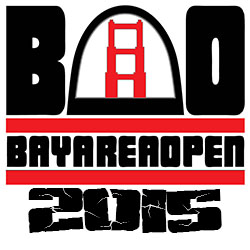 The Draconic Awards will be held at Bay Area Open 2015 on July 11-12th. This will be our second time we will be running the Draconic Awards at this Host Location. We had tons of fun last year so we're hoping this year it'll be just as a blast!
Competition Information
Circuit:
Extended Local (More Info)
Formats:
Master Class and Journeymen (More Info)
Entry Fee:
Bay Area Open Event Badge (Purchase an Event Badge)
Entries and Ceremony:
We will be accepting entries on Saturday from 10am to 6pm. Ceremony will be held in the afternoon on Sunday. Time TBA at the event.
Categories:

Single
Large Scale Miniature (54mm+ and humanoid figure including busts)
Squad/Regiment (All squad/unit must be submitted with a unit base for handling)
Monster/Vehicle
Diorama

Placements:
Both formats are based on the merit system placement for Dragon Coins (Master Class) and Dragon Pins (Journeymen).



Master Class

Best of Show includes three placements. Best of Show Overall Winner for a Dragon Trophy and Second Runner Up and Third Runner up for Dragon Plaques. Best of Show Overall winner will qualify for the Dragonslayer Competition at Globals.



Journeymen

Best of Journeymen Overall, runner up and second runner up is awarded a Badger Airbrushes and/or paints/tints.



People's Choice Awards

BAO will be the first event we will be holding the People's Choice Awards. This is determined by votes online by WGC members and Event Attendees. This will award the winner a Draconic Awards "People's Choice Awards" Plaque



Crystal Brush Qualifier

The Crystal Brush Qualifier is determined by the Bay Area Open Organizers based on the entries submitted into the Draconic Awards.
Restrictions:
All restrictions are based on the Draconic Awards standard restriction list.